DreaganStar Trilogy Complete!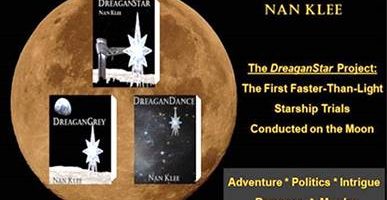 The complete DreaganStar saga is now available on Amazon!
The DreaganStar saga tells the story of the politics, intrigue, romance, and mad science that surrounds the development and initial testing of the world's first Faster-Than-Light (FTL) space vessel. Created on the moon by excentric genius, Doctor Johnathan Dreagan, the crystalline starship develops a unique personality due to two factors: programming by the leading lunan psychologist, Doctor Samantha Alexander; and an amazing mercurous silver substance found only on the moon. As board members of Dreagan's corporation seek to have him declared insane and unfit, romance blooms between Dreagan and Alexander, teaming them up for the court battle to come.
When the starship, which Dreagan names "Star" begins it's first spaceflight test, guidance systems explode and Dreagan and Alexander are thrown into the vastness of space for many days. Presumed dead when they return, the first of several destructive plots against the two is exposed.
After overcoming several setbacks, including abduction, several deaths, and assassination attempts, Dreagan and Alexander fly the starship into deep space and face their first alien contact.