MadMen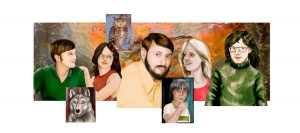 MadMen is an apocalypse fantasy, the futuristic diary of Hannah Augustine, a clairvoyant survivor of China's nuclear attack on the US. After journeying across the country, she and her friend, Penny join a small community of survivors in St. Paul, MN, a few who are developing psychic abilities.
Hannah also develops such abilities while searching for personal peace after the arrival of a former fiancé, her psychic equal, the talented, but crazed William Martin. The conflict escalates with the arrival of Hannah's recent lover, Marshall, who also is becoming psychically gifted. Together they become part of a community of survivors, some who are also psychically "talented". After a difficult winter, this community of 15 relocates to a farm north of Memphis, Tennessee, joining an existing group there. Some of these people are also part of a psychic group William Martin calls The Thirty. As the Chinese move across the country, destroying the remnant of the US population, conflicts and drama surround the farm colony.
Recognizing that they must leave or die at the hands of the Chinese, William, Marshall, and Hannah plan a daring escape for the whole community that will take them to safety in South America. Once the extended family is settled in Columbia, William, Marshall, and Hannah continue their journey across the Atlantic Ocean. Off the coast of Africa, they meet the other witness foretold in Revelation, William's female counterpart, and together they travel to Jerusalem, as demonic forces work to destroy them all.
ManMen's controversial content – including unique or slanted belief systems, Christian references, and sacred rites – as well as the use of pot and alcohol, sexual content, and polygamy. All are designed to equally disturb atheist or Christian.
MadMen is designed to provoke thought. It is a work of SECULAR fiction and is not meant as a vision of things to come.
Read a 2-page synopsis of MadMen – click here:  the short synopsis
Read a more-thorough synopsis – click here: MadMen_SYNOPSIS 2019
Contact Nan at Nan@NanKlee.com.